Safeguarding Campaigns
Safeguarding seems to be on the minds of various partners this week.
Clearly it should be on all our minds, all the time.
"Safeguarding is Everyone's Responsibility"
While families are still working under national guidelines across the country, children are still going to school.
Parents and carers are still making essential travel, and front line staff are still making visits.
Today see's the start of "Road Safety Week" – it is running from the 16th – 22nd November.
Our partners at Sussex Police are also running a campaign to reduce knife crime, and reduce the numbers of young people who carry blades.
"Operation Sceptre" is in place and full details can be found on the Sussex Police website.
As a result, you could use one of the short animated clips, to reinforce the message with young people you work with.
We are all trying to keep young people safe and reduce the risks for them.
We also have a responsibility to look after ourselves and reduce the potential of harm that could be caused while out doing our job.
There is also the official launch of ICON this week, all across Sussex.
This campaign / project, looks at how we keep small babies free from harm of shaking and receiving injury, "Babies Cry – You Can Cope"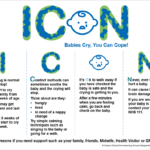 All of these campaigns could help, both staff and the children to stay safer.
Remember – if you "See Something – Say Something"